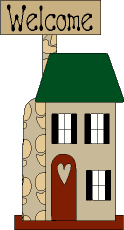 All items in this catalog are designed with both the beginner as well as the professional crafter in mind. We try to design patterns that are fun yet fast. With few exceptions most of our patterns can be finished in an evening. Faces seem to be the difficult to do, so the patterns in this catalog will have the faces drawn actual size on the wood pattern. Hope this is helpful.

We have been asked what type of wood do we use. Normally we use #1 grade pine, 1" x 12". However, #1 grade is not really necessary since once it is painted you can't tell one grade from another. The only thing you need to be careful of is knot holes. There are fewer knot holes in #1. If you use a grade that has a lot of holes, be sure to seal your wood before your paint, otherwise eventually the moisture from the knot hole will rise to the surface.

The focus of The Stenciled Duck will be to continue to furnish you with new and timely patterns. We welcome any suggestions you may have that will make our product better.

Hope to hear from you soon.
The Stenciled Duck
Maureen


Graphics and Services provided by "The Old Drawin' Board"
Copyright 2002 - All Rights Reserved